Nye billeder og nyt arrangement på vej
September bød først på koncert med Doppler Duo i Hendriksholm Kirke, Rødovre, hvor komponist og 

pianist Thomas Clausen kom og lyttede og selv præsenterede det nye værk "French Suite for recorder and organ". Det er altid en fornøjelse, når man har komponisten til stede til at fortælle om hvordan idéerne til et nyt værk blev til.

Derudover optrådte Doppler Duo til et arrangement om oplysningstiden i Brahetrolleborg Kirke og omegn, hvor deltagerne på cykler og i biler kom rundt i området og fik fortalt historie. Det indebar, at jeg fik lov til at spille minikoncert siddende i en robåd på Nørresø i det dejligste solskinsvejr.
/Doppler Duo performed the new piece by the Danish jazz pianist and composer Thomas Clausen in Rødovre, Denmark. The piece is called "French Suite for recorder and organ" and it is always a pleasure when the composer shows up for a performance and introduces the new piece for the audience./
Krydsfelt havde en travl september måned med taffelmusik på Nyborg Slot samt arrangementet "Til Højbords med Reformationen" i både Nykøbing Sj., Hobro, Brejning ved Vejle samt Nyborg Slot.
Her lidt stemningsbilleder fra Nyborg Slot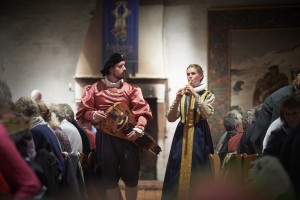 Derudover kan vi i samarbejdet mellem Krydsfelt og Historicum snart løfte sløret for vores nye trailer om vores nye arrangement "Kaffebordet", som handler om kaffens historie fortalt gennem historiske fortællinger, musik og smagsprøver.
/Krydsfelt had the pleasure of performing several times in september and we are soon ready to publish our new promotion video for our new show "Kaffebordet" – the history of coffee./
I september blev det også tid til nye pressebilleder. Fotograf Anne-Mette Kelter Skovsgaard (Kelter Photography) har lavet en virkelig flot serie, som jeg glæder mig meget til at anvende som pressemateriale i forskellige sammenhænge. Se et udvalg herunder:
/I got new press photos by "Kelter Photography" and I am looking very much forward to using the photos for concerts, lectures etc./